1.Bottle feeding table
Summarize
This machine is suitable for many kinds of round bottle and square bottle, it adopts electric motor which drives the working flat whirl, so the bottle can follow the fixed orbit to the conveyer belt.
This automatic ordering machine is mainly suitable for round or square bottle, is corollary equipment of automatic production line in common usage, to satisfying many kinds of bottle, if adjust, you need only adjust the position and height of baffle. The machine is equipped with stepless governing frequency conversion.
2.Automatic filling machine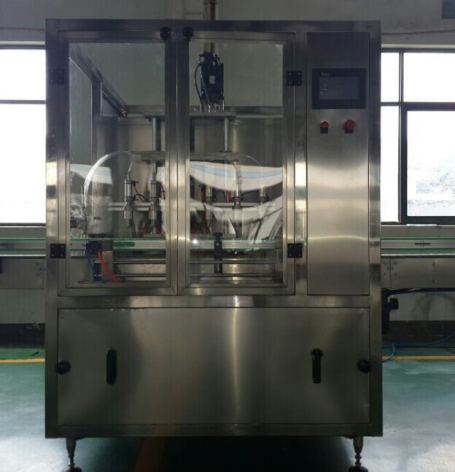 Application
This machine is specially made for all kinds of viscousity materials, such as chocolate paste,peanut butter, honey, butter, Mayonnaise, ketchup etc. All the contacted part with the oil is high quality stainless steel.. The machine adopts piston pump for filling. By adjusting the piston pump, it can fill all of the bottles in one filling machine, with quick speed and high precision.
Technical Parameters
Item:Piston pump filling machine

Filling system:Piston pump driven by servo motor
Filling range :100-500ml
Filling speed:1800-2000b/h
Filling precision:±1%
Power:220/380 50/60Hz 2KW
Air pressure range:0.4Mpa
Weight:600kg
Dimension:L1500*W1200*H1800
3.Vacuum capping machine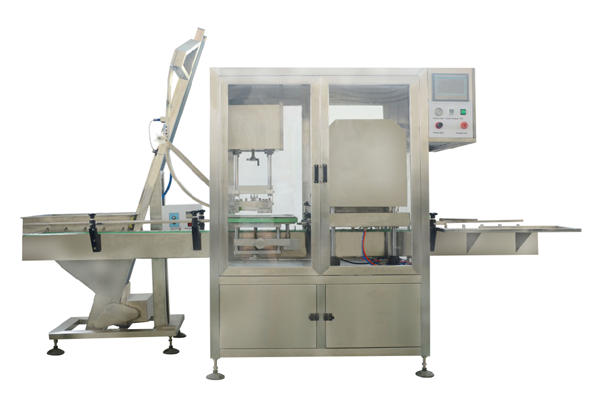 This machine is researched and developed by our company with years of experience, it is unique in domestic .Integrated automatically cap arranging with covering, vacuum capping. Adopted manual vacuum pump to achieve high vacuum. With the functions of no bottle no covering, alarming when no caps are available. Enjoyed high automation. The main pneumatic and electric parts are from world famous brands. With stable and reliable performance. It is widely used for vacuum capping of the Glass Jars with iron caps in the industries of canned food, beverage, seasoning, health care products etc.
Main technical parameter
Power: ≤2.3KW(including the vacuum pump)
Production capacity: 1800-2000 BPH
Cap diameter: ¢30-¢55mm Bottle height: 80-250mm
Bottle diameter: ¢30-¢85mm
Max vacuum: -0.08mpa
Capping torsion: 5-20N.M
Air consumption: 0.6M3/0.7Mpa
Dimensions: about2100×900×1630mm 750X1060X1400mm Weight: about 850kg
4.Automatic Labeling Machine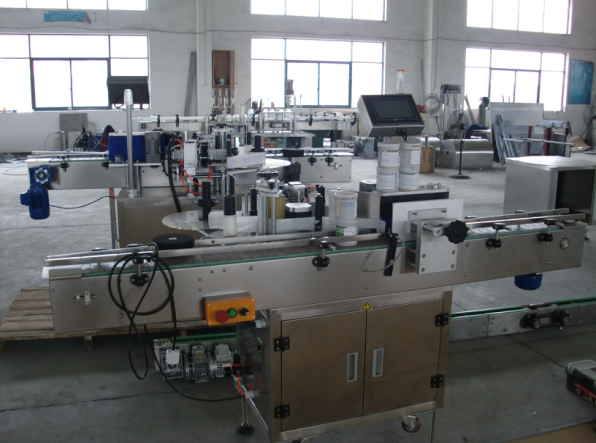 Purpose and brief
The function complete oral liquid bottle, vial or other types of self-adhesive label round the bottle. Reference thermal printer head printing batch number; PLC full control, touch screen set parameters; and whether the bottle not to sign, automatic fault alarm functions. Local interference is strong, stable and reliable performance.
Main technique parameters
Production capacity: 50 bottles / min
Applicable specifications: round bottle affixed week
Labeling rate: ≥ 99.5%
Power supply: 220V 50Hz
Power: 0.6Kw
Dimensions: 1800 × 900 × 1400
5.Turn table
Summarize
This machine is suitable for collecting finished products on table.
Features:
Collecting finished product.
Technical parameters: Power: 60 W, 220V
6.Conveyor
Main Components: (1) stainless chain belt (2) bracket / frame work (3) protection bar board (4) fastening frame (5) transmission shaft
It is used for the connection of the machines included in an automatic line to convey the products & make it runs continuously.