Bottle feeding machine:
This automatic ordering machine adopts one motor to drive working table-board rotate, so as to deed bottle into conveyor. It is mainly suitable for cans, round or square bottle, is corollary equipment of automatic product ling in common usage, to satisfying many kinds of bottle, if adjust, you need only adjust the position and height of baffle. The machine is equipped with stepless governing frequency conversion.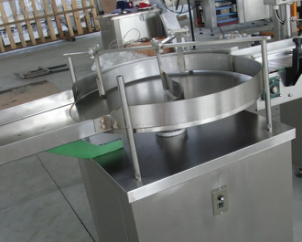 Auger powder feeding machine
The machine is specially used for feeding material into powder filling machine; it is widely used in food, chemical industry, plastic packing and other industries. The height is subject to space of workshop. It can move freely, high speed, and reliable. It can equipped with different screw according to different material.The parts touching material is made of stainless steel.

1 head powder filling machine
The machine can finishing measuring, filling etc. because of original design, it is more suitable for packing powdered material that is easy to flow, like veterinary drug, sugar, glucose, carbon dust, talcum powder, essence etc.
Except motor, the shell of the whole machine is 304 stainless steel, and the powder contact part are SS 316.combined transparent workbin, easy to dismantle without tools. Adopts servo motor to drive auger, with the advantages of durable, accurate location, stable function etc. the machine is controlled by PLC, with stable working, anti-distraction, high filling precision etc.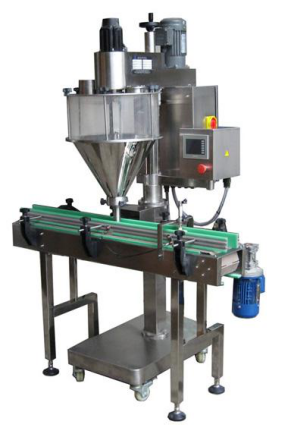 Automatic Round Can Vacuuming and Nitrogen Filling can sealer
Product Description
This machine is applicable for Round Shaped Tinplate can , Aluminum Can or PET can seaming with vacuuming and nitrogen filling processes.
Technical Parameters
1) Seaming Speed: 10 cans / minutes
2) Size range of can: Diameter: 70-127mm, Height: 80-190mm
3) Power requirement: 380V, 50/60HZ,
4) Power Capacity: 4.0 Kw
5) Net Weight: 500kg
6) Dimension: 2000(L)×800(W)×1850(H)mm
7) Compressing Air Requirement: 0.6-0.8MPa
8) Compressing Air Consumption: 80Liter/Min
9) Nitrogen Pressure: >=0.4Mpa
10) Nitrogen Consumption: App. 50 Liter/Min
11) Residual oxygen content: <=5%
12) Vacuuming Pump: Include